3 Activities for Teaching Basic Conversation Skills
Hello, Iris here! When was the last time you were an active part of a rewarding conversation? How did it feel? Maybe there were laughs, you felt seen, you got to share a story, or listened well.

There are many ways we can connect, nonverbally and across language barriers, but today we're focusing on verbal communication. This includes the words we use and when we use them. Here's how I teach basic conversation skills:
Materials I Use:
Video: Conversation Share Introduction
3 Activities to Teach Basic Conversation Skills:
The video, Conversation Share Introduction, depicts two boys passing a basketball back and forth. This simple visual models the idea of taking turns during a conversation. You "pass the ball" when you switch from speaker to active listener.

Get your learners up and toss a ball. Ask them what happens when they don't pay attention?




Use colorful Post-it notes to create a conversation tree. Each group member can use a different color. Or, use one color for questions and another for comments. This allows learners to see if they are participating in a balanced conversation. Turn the tables: role-play what it feels like for one person to dominate the conversation (my learners like it when I'm the one to play this role)!


Joel Shaul's The Conversation Train is a complementary and highly visual book I use with my train (and other related transportation) fanatics. Often,

neurodiverse

learners "

think in pictures

." This book provides vibrant images for our learners to have in mind when heading down the conversation track, taking turns, and changing topics.
Get more FREE videos, worksheets, and games in your inbox every week!
Key Takeaways:
Like all other skills, conversing takes exposure, good models, and practice.
Encourage learners to practice conversation skills with people they're comfortable with and encourage them to spend time observing those whose conversation skills they admire. Over time this will hone their particular brand of character and conversation to be what they wish.
We add new materials to our Social Communication Curriculum (SCC) each month. View our Everyday Speech's Social Communication Curriculum 2022-23 Roadmap to see everything we have coming up.
Happy conversing!
About the Author: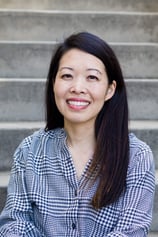 Iris Wong joined Everyday Speech as a contributor in 2021. Over the last decade, she has been a Speech Language Pathologist in PreK-12 public schools, private practice, international schools and community health based early intervention. She currently lives in the San Francisco Bay Area with her husband, two kids and senior dog. Visit her at https://www.linkedin.com/in/iris-l-wong/
---
Leave a comment