Everyday Speech History
Hi everyone!

For anyone who isn't familiar, I wanted to give a quick background and tell the story of how I started Everyday Speech. As a Speech-Language Pathologist working with middle and high schoolers, I struggled to find social skills materials to use for class. I quickly realized that incorporating technology was a sure fire way to engage my students, but again, I couldn't find quality materials that worked with my older students. I did a lot of role-play activities, but I wanted a video I could show to model for my students that would grab and hold their attention.

This is how the birth of Everyday Speech started. I thought about creating an iPad app which had social skills lessons. I also knew about video modeling and how it was an evidence-based practice. From here, I decided to create video modeling lessons around various social skills. Fast forward five years, the company has grown and we are working with an amazing team. Very recently, we released our own platform for SLPS to view our videos, find full printable lessons, and play online games.

The Social Learning Platform, or the SLP for short, is something I'm so proud of and excited to announce. I wanted to create a go-to place for everything social skills and included lots of features to save professionals time. When you take a look, you'll see that you're able to sort and filter our materials to find exactly what you need, which is helpful because we have over 500 pieces of therapy material. We also included clinical tools of guides to therapy, pre-made playlists of materials based on skills, data tracking forms, and pre/post assessments.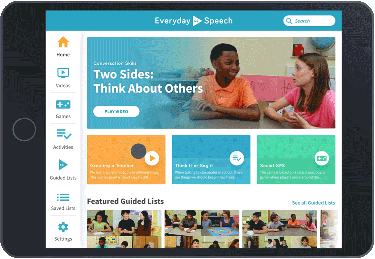 Get to know more about us here!
Talk soon,
Brittany
---
Leave a comment