Fun, Interactive Halloween (Or any Holiday!) Activity using Boardmaker Studio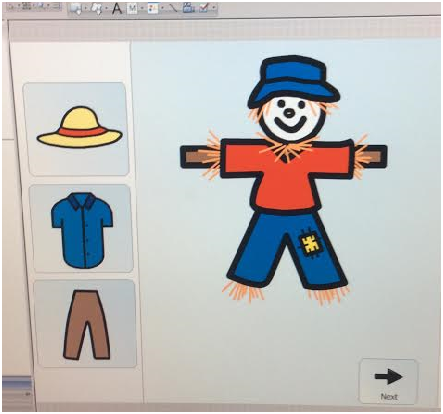 I'm always looking for fun and engaging activities for my students. The new Boardmaker Studio software is great because the new actions you can add to buttons really engage my students. I work with students who have fleeting attention and it can be really hard to find activities that will interest them and hold their attention. This activity was a home run so I wanted to share it!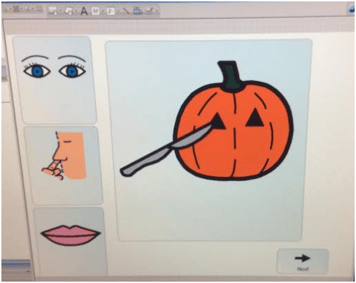 I made a seasonal activity that focused on fall vocabulary and got my students up and moving. The first page of my project was a scarecrow with different clothing items that my students could drag onto the scarecrow. The buttons are movable so my students were able to drag them across the screen. This was a fun because it got them up to walk towards the screen and then drag buttons across the screen.
The classroom I work in has an awesome device called the TAP-it which is a portable screen that syncs to any computer. It allows my students with physical impairments to access a screen very close to them. It really makes these activities more engaging. The same effect could be achieved with a Smart Board or any sort of smart white board.
The next page was a similar. It had a large pumpkin with body parts for my students to drag onto the pumpkin. This was a great way to practice labeling body parts with the fun activity of making a jack-o'-lantern on the screen!
How to make this Activity
I started with a blank project rather than a template, so click on New Project
You have to name your file before you can begin working on it
Then select Create, now you have your blank page to work on
To add a button-select the Standard Button tool and drag a button onto the workspace
To add a symbol onto the button look to the menu on the left hand side of the screen, click on the picture of a smiley face which is the Symbol button
Start typing the name of the object and look for the picture in the Open Symbol menu
To select the symbol double-click or press Enter
To make the button be able to move

Look at the left menu under Drag and Drop (see image to the right)
Click on Drag Type and select Move from the drop-down menu
Add a blank button across from this to be your "target", this means the moveable button will drag onto this blank one and stay put after you release it (if you skip this step the moveable button will come right back after you drag it)
Now under Drag and Drop check the box that says Is Target (see image below)
Repeat for as many pictures as you want!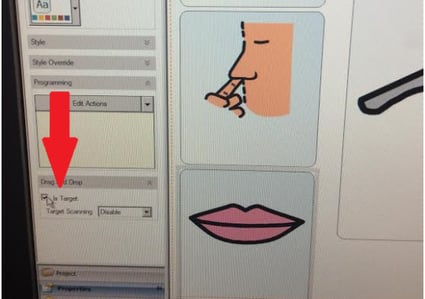 Embedding Sound Files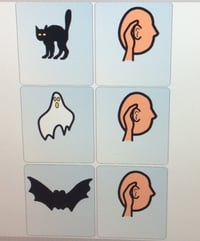 I'm really proud of the last page of this project. I used the feature of embedding sound files onto the Halloween buttons so that when you tap on the button, you hear a sound. This may seem technologically difficult but it was surprisingly easy! I used ghost, cat, and bat noises but you could come up with any Halloween image and sound pairing – witches and ghoulish laughter, and so many more!
This activity can also be modified for any theme or holiday. The fun part was watching my students come up to the screen, tap on the picture, and see how excited they were to hear the sounds. This is a really motivating activity for kids who love to hear different sounds.
How to Make this Activity
Add your buttons the same way as the steps listed above
To find a sound file I searched on Google for "free Halloween sounds". I found ones that I could download, saved them to my computer, and then was able to open them in Boardmaker to put into this project.
To add sound files:

Click on the button you want to play sound
Click on Programming on the left side menu
Click on Edit Actions
A pop up menu appears> look under the heading Audio/Video/Speech
Click on Sound > Play Sound (soundID) (see image to the right)
Select Browse to view your computer's files, and then click on the sound file you've saved
Select Save
Repeat as many times as you want
Now you're ready to use this fun activity! From the upper right corner of your screen, select the Play button to enter Play mode to start the activity
Hope you can use this fun activity! Happy Halloween!! Sign up for our mailing list here to stay updated with our latest therapy tips, app announcements, and blog posts. Don't forget to follow us on Twitter, Pinterest, and like us on Facebook!
---
Leave a comment