March Content Update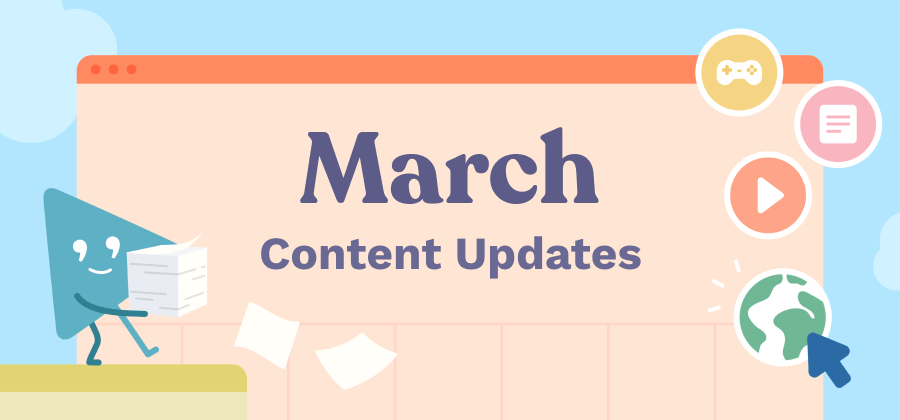 Everyday Speech is proud to announce the launch of an all-new skill on the platform: Relationships for Middle and High Schoolers. This new skill features brand new units, including Getting Ready to Date, Dating, and Ending a Relationship. Each unit features age-appropriate videos, activities, and games for learners who have begun to show interest in romantic relationships.
Dating etiquette involves a whole lot of social skills. It can be overwhelming thinking about all the rules, social cues, and nonverbal communication that go into navigating a relationship! Our new dating unit will support you in teaching skills related to communication, self-advocacy, and staying safe in relationships.
Plus, for our younger learners, don't miss our new Pre-K and K materials on making introductions, using connected comments, staying on topic, lining up, and creating and respecting personal space.
Let us know how your students feel about our new materials by tagging us on Instagram using @everydayspeech.
---
New Relationship Materials for Middle and High School Students
New Videos
| | |
| --- | --- |
| Students learn how to decide whether or not they are ready to date. | Students learn how to appropriately navigate having a crush on someone. |
| Students learn how to communicate well in relationships in order to avoid misunderstandings. | Students learn the importance of checking in and evaluating their feelings when dating another person. |
| Students learn the steps to take in order to ask someone they like out on a date. | Students learn the appropriate steps to take when going out on a date. |
| Students learn how to end a relationship and break up respectfully. | Breakups can be difficult. In this lesson, learners will be given a variety of tips and steps they can take in order to positively cope after a breakup. |
New Everyday Speech World Experiences
| | |
| --- | --- |
| Students will practice a variety of social interactions to build healthy dating and relationship skills. | Students will practice appropriate texting skills when it comes to building a relationship and dating. |
Related Resources:
---
Leave a comment