No-Prep Elementary Lessons to Teach Emotional Recognition
Hi, Everyday Speech community! 👋

My name is Iris. I'm a contributor at Everyday Speech and a 14th-year, predominantly school-based SLP. Today, I'm sharing an easy lesson you can use with your elementary students to teach them emotional recognition.

Recently, during a cookout, my son stuck his face next to his plate (of dumpling eyes and a hot-dog smile) and exclaimed, "Look! The same!" It reminded me that emotions and emotional recognition are essential to how we connect and create humor! It is also such an emotional balm to encounter someone who gets how we feel.

A foundational part of perspective-taking is emotional recognition. Growing our emotional vocabulary is a skill that crosses lifespans. To help me teach emotional recognition, I use Everyday Speech's Social Communication Curriculum.

The curriculum has videos featuring learners from preschool through high school. In my experience, the videos can also be used with young adults. Let's take a tour!

Materials I Use:
How I Teach Emotional Recognition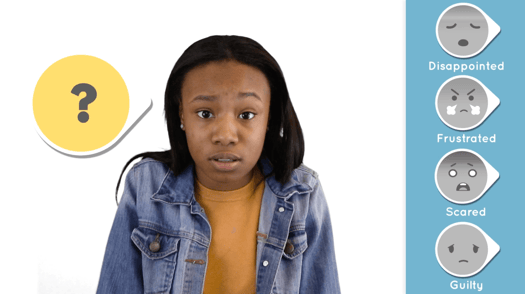 Emotion ID IV is a 12-minute video. I suggest previewing and picking 1-2 relatable scenarios to do a deep dive in one 30-minute session. Every material has shareable URLs, so you can share materials as homework. This will help facilitate skill carryover with family.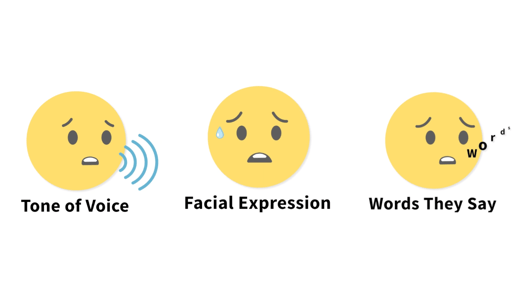 I screenshot, print and laminate the recurring visual cues within the Emotion ID video series (I, II, III, and IV) and pro-tip: (a student came up with this genius idea!) velcro them separately to the wall, for easy removal, as reminders of what to tune into.
The Emotion ID videos can all be paused and using the on-screen annotation feature, draw and highlight the peaks and dips in voice and the words that correspond with the changes. Go on YouTube and find short clips of other people or cartoon characters showing similar emotions to really drive the point home!
For a more theatrical crowd, use an iPad and offer to film the learners or assign roles of cameraperson, director, photographer, etc. Use the lines and scenarios given by the video characters! Watch it back as if screening a short film.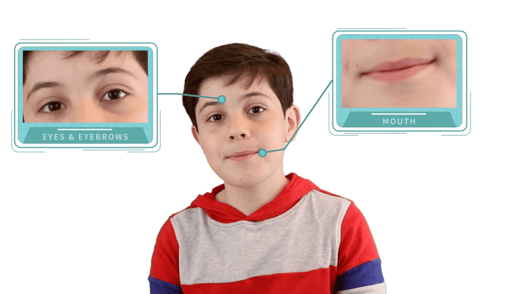 The Emotion ID IV Video Companion Worksheet lends vocabulary to talk about facial movements (e.g., tight mouth, squint) and tone of voice (e.g., low energy, high tone, fast voice). Make connections with whatever you and your learners are into and look at a multitude of faces and postures, be it in movie characters (e.g., Pixar's Inside Out or the latest Disney film), comics (e.g., any Calvin and Hobbes fans?), celebrities (e.g., Stranger Things cast for an older crowd), current event photos, magazines or the unexpected (e.g., babies or animals).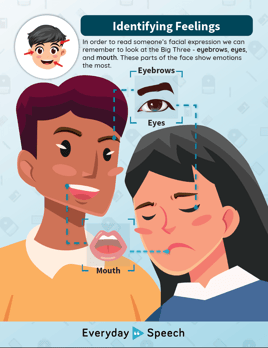 The Identifying Feelings Goal Poster is another visual tool to post on a wall. This cues learners to zone in on the Big Three: eyebrows, eyes and mouth for reading facial expressions.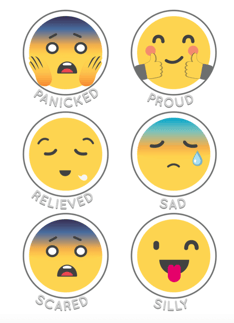 The SocialMojis can be color-printed, laminated and affixed to popsicle sticks or included on posters or whiteboards. Add the Socialmojis to thought bubbles to help learners remember the depicted emotion and roleplay the expressions.
For a more physically active lesson, use the SocialMojis for a game of charades to break up the sitting time! Add body gestures and words for added effect and ease of guessing.
For non-readers, narrow the number of SocialMojis down and review the emotions before playing. Grab handheld mirrors and lights, camera and action! Get to work lifting eyebrows, narrowing eyes, gasping with an open mouth or looking away with discomfort.
To assist with progress reporting and data tracking, Everyday Speech has record sheets and goal ideas, such as this one for Identifying Feelings.
Games help integrate all our skills in a fun way! Whether you are feeling low or high tech, there are two versions of Bingo Emotions to suit your mood.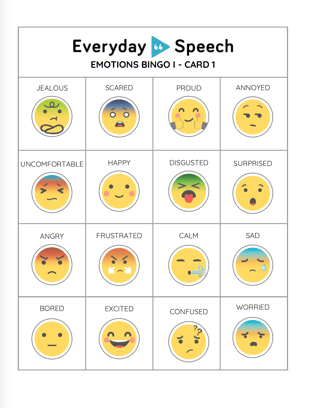 ID the Emotions Bingo Packet is your low-tech paper option that pairs well with the Emotions ID I, II, and III videos.
Your high-tech option is Bingo Emotions Game (Access with a free 30-day trial), complete with a lever to pull and cards to stamp! To reduce sensory distractions, turn the music feature off, but keep the sound effects on for reinforcement. Play as one team if students have difficulty waiting their turn or need more support.
Happy teaching!
Are you looking for more no-prep lessons like this? Try Everyday Speech free for 30 days!
---
Leave a comment