Using Everyday Speech in a Remote Learning Environment
*This article was updated on August 14, 2020 to reflect the latest added features.
In response to the COVID-19 (Coronavirus) pandemic, we've gotten a ton of questions around how to maintain continuity of services while schools are closed.
Our users provide incredibly valuable services to those in our communities that need them the most, and we're dedicated to helping educators continue to provide for their students. In this post, we outline the steps we're taking to help combat this crisis.
Our Social-Emotional Learning Platform is entirely digital, making it a great fit for remote learning (also called eLearning). In this post, we'll go over some of the features of the platform you can leverage to improve the remote learning experience.
Assign Homework and Tasks with Student Profiles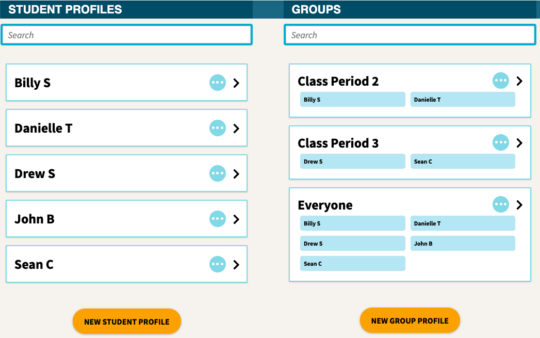 A powerful, new feature of our Social-Emotional Learning Platform is our "Student Profiles." This enables you to not only assign materials to individual students or groups without the need for each student to create their own account. Students can watch videos on any device, including phones. Students will only be able to access the materials you have specifically shared with them.
All it takes to start is adding your students' first name and last initial to your "My Classroom" section on the platform, and clicking the "Send as Homework" button next to any of our materials. This will generate a link that you share with your intended students, and they will be able to self-report in the platform when they complete assignments.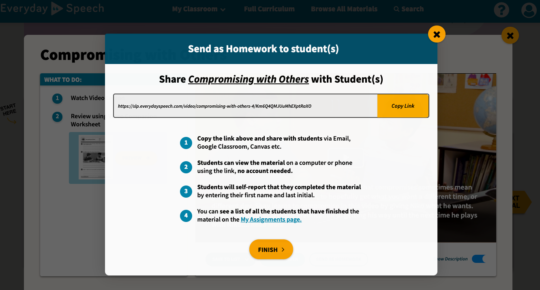 Notes about Student Profiles:
You can export a full list of the materials that each student worked on and when they worked on them.
The same shareable link can be used for many students, since they will self-report assignment completion.
You'll be able to see who has finished the materials and who hasn't.
Close the Social Interaction Gap
Nothing helps children reinforce and generalize skills like practical experience, but social interaction is in short support as we quarantine and social distance during the pandemic. With our latest and most interactive game yet, Everyday Speech World enables students to explore social simulations and feel safe to learn and make mistakes in a digital environment. The game allows your students to interact with real-life characters to observe nuances in human body language and facial expressions.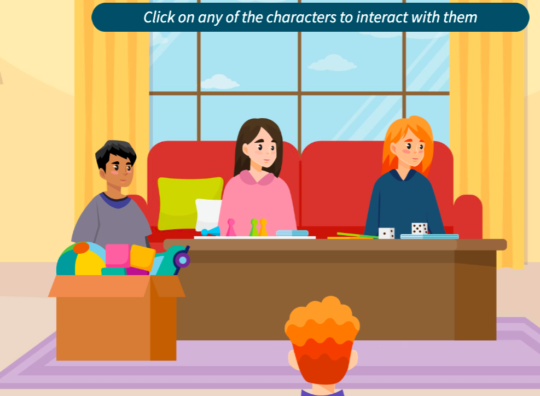 With 10 different social scenarios to choose from, students will be able to have realistic conversations as a 1st-person character, experience the emotional impact of their choices on other characters, and reinforce their skills in emotional recognition.
Watch Video Together, Mark it Up
T
The foundation of our curriculum is video – we have nearly 500 videos in our platform, with more coming every month of the school year.
In this post, we outline how you can use Zoom to watch a video together and share the sound from your computer to have a more seamless viewing experience. Be sure to "Share computer sound"!
While you're doing that, you can take advantage of a great feature that's built into our video player – our digital pen. When you're playing a video in full screen mode, you can draw right on the video when it's paused. This is great for highlighting emotions, eye-lines, body language, and more!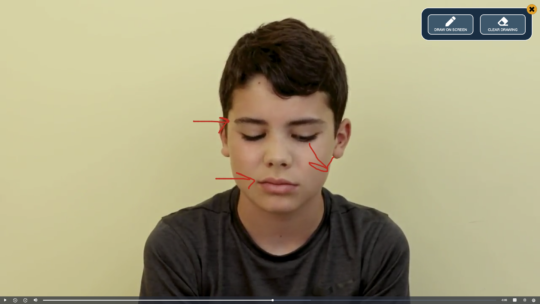 Pro tip: if you're using Zoom, you can hand over mouse control to the student on the other end and have them control the pen!
Notes to keep in mind regarding watching videos:
Based on follow-up information from our webinar, we are no longer recommending the Free version of Zoom, as it is not HIPAA compliant.
Zoom is NOT necessary to view our videos. It is a third-party tool for sharing your screen with others. Any user can watch videos on their own computer or iPad without any third-party tools.
The Digital Pen feature is part of our own video player, so no need to download Zoom in order to use it!
If you only plan to do teletherapy and use Zoom to share your screen, your student does not need an account. You have the option to share the custom link with them, though.
More than one student can join a Zoom call. You can watch a video or play a game with the entire class!
Turn Worksheets into Interactive Experiences
Earlier this year, we released an update to our platform that made hundreds of our downloadable worksheets interactive, so you can play them right there on your computer.
When you're looking for an activity in our platform, you may notice some with the option to Play on Screen: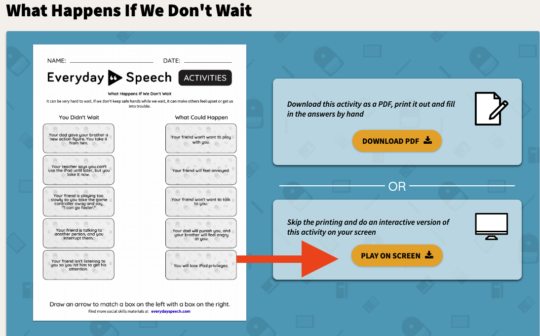 Selecting that option will bring up a completely digital version of the activity: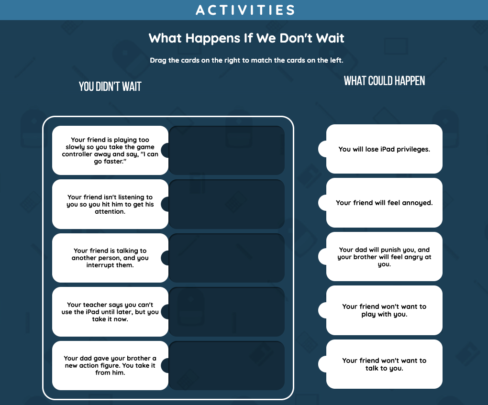 You can complete this activity right from your computer screen!
Play a Collaborative Game
As part of our curriculum, we have dozens of web games you can play collaboratively in real time. If you're using something like Zoom for your therapy sessions, you can start the game on your computer, then share your screen so everyone gets a collaborative experience.
One of our favorites is Social Skills Quiz Show, a Jeopardy style game that mixes different question types for an engaging, interactive experience.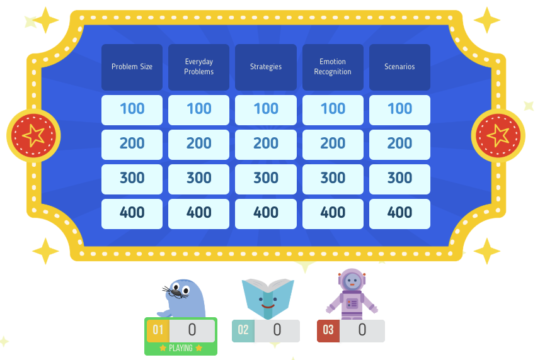 Wrapping Up
We hope these tips will help you navigate some challenging times! If you've found a way to integrate Everyday Speech into your telepractice or remote learning, leave a comment below to let us know!
---
Leave a comment