No-Prep High School Lessons to Teach Job Skills
You likely have a distinct visual and emotional memory of your first job. A first job is a key life milestone. It's one more step towards independence and adulthood.
My first job was to grade math assignments at an afterschool support center. I was a sophomore in high school at the time. I remember the small room, yellow-tinged lighting, and small children walking up to me to hand me their math exercises. The work was repetitive, but it gave me a sense of responsibility.
I had many first-time work experiences there, including interviewing, filling out work forms, communicating with my boss and coworkers, picking out appropriate work attire, and coordinating transportation to get to and from the job on time. It also taught me the value of money, the basics of financial saving and bank accounts, and gave me some hard-earned pocket change.
Everyone can benefit from rehearsing and preparing for their first job, especially learners who need extra help with tasks that require executive functioning.
The workplace can be tricky to navigate. There are hidden rules to each job type and environment. Not to mention new people to talk with, including bosses, coworkers, and customers.
What do job skills entail anyway?
Before the job:
Applying for the job
Navigating paperwork and providing identification
Identifying and supplying references
Interviewing
Turning down a job if it's not a good fit (e.g., interpersonal, qualifications, salary, or schedule)
Managing expectations and emotions if the employer doesn't extend an offer
Accepting the job and negotiating start dates, schedules, etc.
During the job:
Choosing a work-appropriate outfit and getting dressed
Hygiene
Morning routines and time-planning
Transportation
Focus on the job
Tasks during job
Social interactions with coworkers and/or customers
Creating, maintaining relationships, openness to feedback and change
After the job:
Tactfully quitting a job
Maintaining positive relationships with coworkers and supervisors (not burning bridges)
Asking for recommendations
Saying goodbye
That's a lot to unpack! Thankfully, your learners have you to guide them. There are also plenty of online tools you can use to help you break down the basics for your high school students.
For related financial matters and budgeting, I like EVERFI's financial literacy units (free for K-12 educators).
For other on-the-job skills, like interviewing and navigating the workplace, I use the following Everyday Speech resources:
What does a measurable, specific Individualized Education Plan (IEP) goal targeting secondary or postsecondary job skills look like?
"By (date), provided multimodal supports (e.g., video models, checklists, visuals, simulations), (learner's name) will identify and rehearse key job skills in 80% of opportunities, over 2 sessions, as measured by SLP-charted data."
How I Teach:
Before the Job:
The Everyday Speech Video: Preparing for an Interview (5 minutes) walks through the typical steps of starting a new job. We follow the character Demarcus as he prepares for a job interview.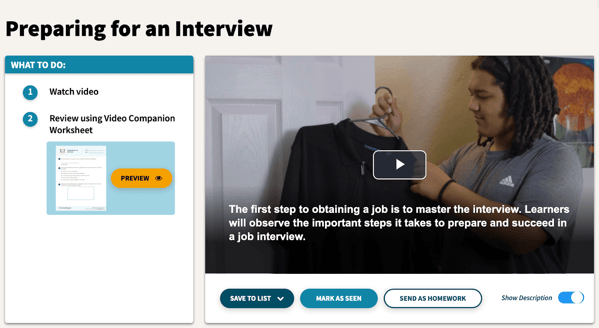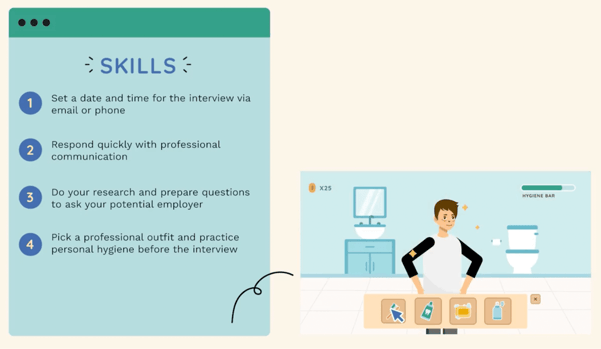 Ask your learners to visualize their ideal morning routine. What would they do before a job interview? Ask them to identify any personal hygiene roadblocks, perhaps related to sensory or executive functioning (e.g., scratchy clothes, difficulty getting started with brushing teeth). There are workarounds!
This video (like all Everyday Speech videos) comes with a companion worksheet that can be used to guide learner-led group discussions to grow skills in ownership and leadership.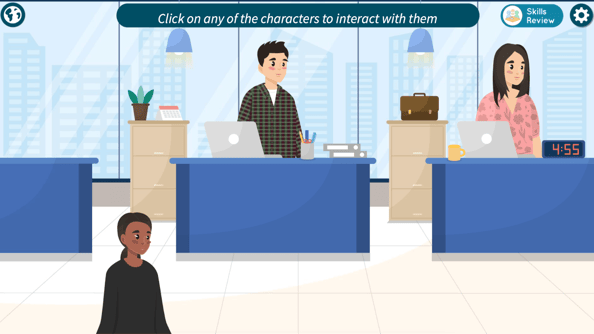 As a follow-up activity, learners can try a job interview simulation via Everyday Speech World (Interactive): Interview Skills (access with a free 30-day trial), endorsed by even my most role-play resistant students (feels more like gaming than acting).
During the Job Skills:
The Being an Employee video (5 minutes) provides top tips for success in the workplace.
The video covers:
1. Getting to know coworkers and managers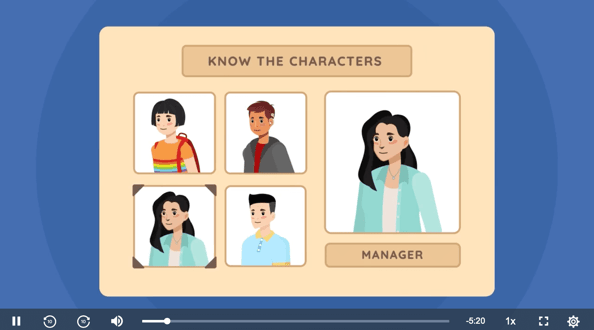 2. Identifying problems using the problem-solving scale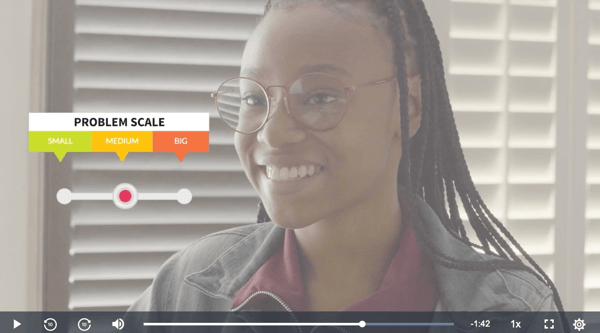 3. Knowing who to ask for help based on the size of a problem
4. Using the Relationship Ruler to stay professional
Further Discussion:
My high school learners often have a hard time with email because it can be easy to misunderstand the tone of written communication. Sometimes people may come across as disrespectful or ungrateful when that was never their intention.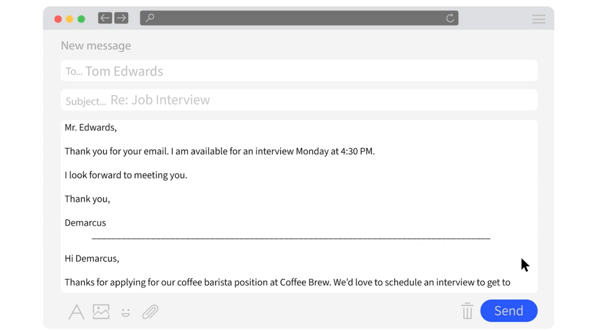 Rather than do trial and error with email etiquette in real-time, we can make things concrete and practice!
Ask your learners to practice writing emails for a variety of job situations, such as setting up an interview, accepting a job offer, or asking for time off.
If your learners are looking for more information and support, they may benefit from connecting with a neurodiverse support network online (e.g. Reddit group, Facebook group, etc.). Students may be able to connect with neurodivergent adults who can share their lived experiences navigating the workplace.
Key Takeaways:
Kind, honest and professional—we all want to be seen as that team player or staff member. Rehearsing job skills will help our learners find quality employment so they can build confidence and financial freedom, and connect with a professional community.
How are you integrating these tools into your coaching practice? Comment below!
Are you looking for more lesson plans and tools to use with your learners? Try one of the no-prep Everyday Speech curricula free for 30 days!

Also, a shout-out to my secondary folks—like what you see? New middle and high school materials are headed your way! 🎉

About the Author: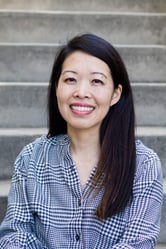 Iris Wong joined Everyday Speech as a contributor in 2021. Over the last decade, she has been a Speech Language Pathologist in PreK-12 public schools, private practice, international schools and community health based early intervention. She currently lives in the San Francisco Bay Area with her husband, two kids and senior dog. Visit her at https://www.linkedin.com/in/iris-l-wong/
---
Leave a comment