No-Prep Middle School Lessons to Teach Self-Regulation
Iris here. Hi again!
This no-prep lesson is perfect for supporting your middle school students with self-regulation.
Self-regulation is a topic near and dear to me. Successful and consistent self-regulation (paired with environmental and community support) is often what prevents burnout. Self-regulation can also support learners in developing authentic social connections!
Self-regulation involves a wide range of skills and frames of thinking, including growth mindset, grit, and mental and emotional flexibility.
What does a measurable, specific IEP goal targeting middle school self-regulation look like?
"By (date), provided multimodal supports (e.g., video models, role play), (learner's name) will identify strategies that promote self-regulation for the individual and in specific real-life situations, in 80% of opportunities, over 2 sessions, as measured by SLP-charted data.
Materials I Use to Teach Self-Regulation:
How I Teach Self-Regulation:
First, I share the 7-minute video, "Find Strategies that Work for You."
The title, "Find Strategies that Work for You," is the key takeaway for our learners. We are all wired differently and come from different backgrounds—strategies are not one-size-fits-all.
The video highlights the concept of a self-controller scanner, which learners can use to check in with themselves. Remind learners stay mindful when they feel big emotions. Do they need to take a break? Belly breathe? Talk to someone?
To use the self-controller scanner, simply:
Notice how you're feeling.

Figure out what you need.

Choose a strategy that meets your needs.




The video closes with great easy follow-up activities to help students identify the self-regulating strategies that work best for them!
The self-regulation strategies we teach, model, and encourage our learners to develop should be individualized, even when they appear on the surface to be "out of the box."
Share the video below with your learners and encourage them to use the self-controller scanner the next time they are in a stressful situation.
Get more FREE videos, worksheets, and games in your inbox every week!
Share Personal Experiences and Processes for Self-Regulating
In addition to finding personalized strategies, it's also important to identify and visualize triggers and/or environments that cause stress. We all vary in this way as well.
Visualize and share times you have had to self-regulate and ask your learners to do the same. Pay attention to the ways stressors in your life may mirror some of the stressors your learners face. Some examples include:
Educator: A driver abruptly swerves and cuts into the traffic lane in front of you.
Learner: A classmate cuts in line in front of you in the cafeteria.
Educator: You make a major faux pas while text messaging with a new friend.
Learner: You say something insensitive or hurtful to a peer but don't realize it until you see their face.
Educator: The class schedules change. You need to shift your Speech schedule for the 5th time, and counting.
Learner: There is a sub in your favorite class, but he doesn't know any of the regular routines.

Learners like it when they see and feel that we "get" their struggles. Oftentimes, we have a lot more in common with our learners than we know. Sharing our challenges and self-regulation processes can help us build positive connections with our learners.
Once you talk about some of the stresses of daily life, shift to talking about some of the ways students can use tools, like the self-controller scanner and self-talk, to calm down and self-regulate.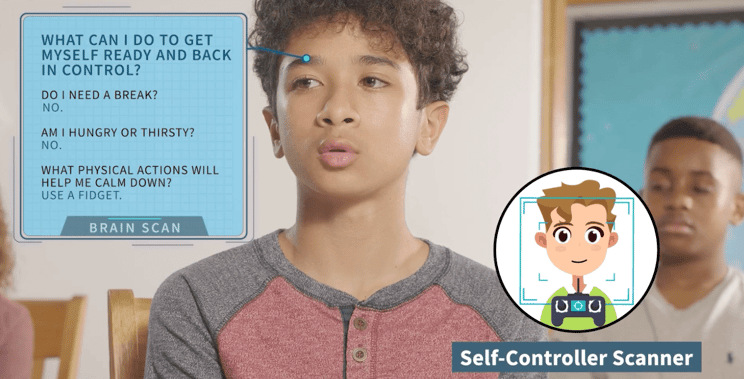 It may be helpful to go back to the "Find Strategies that Work for You" video to talk through self-regulating strategy options. In the screenshot above, for example, we see a middle-schooler using questions and a mental checklist to self-regulate.
Encourage your learners to use tools like these next time they're in a stressful situation.
Promoting Self-Regulation at Home
Self-regulation skills will serve your learners inside the classroom and beyond. It's important to encourage your learners to practice SEL skills in a variety of settings.
I frequently see students "hold it together" at school then "unwind" at home. While it is important to move through the continuum of emotions and have the safe space to experience them, learners can continue to practice their self-regulation skills outside of the school day.
One way to support this is to send home resources, like this video companion worksheet and Zones of Regulation visual. This will encourage learners to keep reviewing and reflecting on concepts at home and equip family members with tools they can use to promote self-regulation.
Are you looking for more social-emotional learning materials for your learners? Sign up for a free 30-day trial and get all-access to hundreds of video-modeling lessons, games, activities, and more!
About the Author: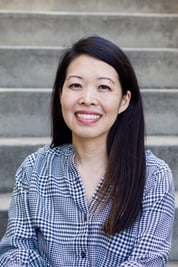 Iris Wong joined Everyday Speech as a contributor in 2021. Over the last decade, she has been a Speech Language Pathologist in PreK-12 public schools, private practice, international schools and community health based early intervention. She currently lives in the San Francisco Bay Area with her husband, two kids and senior dog. Visit her at https://www.linkedin.com/in/iris-l-wong/
---
Leave a comment