Why Gratitude Matters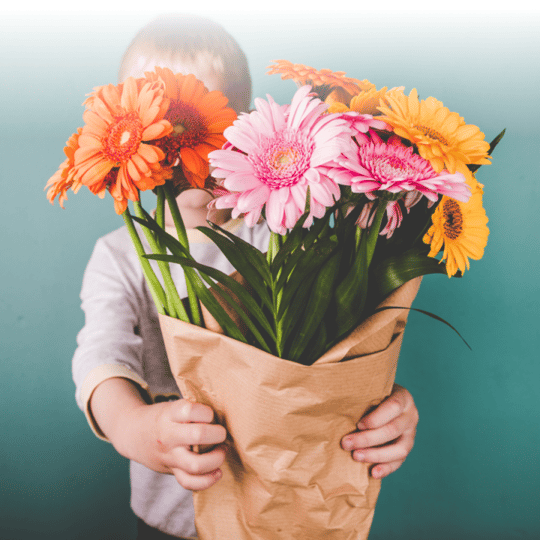 What are you grateful for? You've probably heard this question multiple times over the years, likely at a Thanksgiving dinner. Take a moment and think about what you're grateful for now. Got it? Now, how do you feel?
Chances are you feel a little more content, supported, and relaxed. In fact, studies have shown that regularly reflecting on what makes us grateful can make a notable difference in our sense of well-being, optimism, and overall happiness. Sign us up!
It's easy to get caught up in all the things we don't have. We may wish we had more support at school or home, more resources, more energy, more time, the list goes on and on. Constantly thinking about what we lack can lead to burnout (see Self-Care Tips for Educators)! Instead, try shifting your focus to everything you already have. Ask yourself and your students the question: "What are you grateful for?" once a week (or even once a day!). Soon you will start to develop an "Attitude of Gratitude."
When thinking about what you're grateful for, think about your life as a whole:
Think about the past:
What are you grateful for in your past?
What past experiences made you who you are today?
Who in your past influenced your life for the better?
Think about the present:
What are you grateful for now?
Who supports you now?
What activities bring you joy?
Think about the future:
What goals drive you forward?
What adventures are you looking forward to?
What relationships do you hope to build?
These are helpful questions to ask yourself and your students on a regular basis, not just around Thanksgiving! Keep in mind what you're grateful for doesn't necessarily have to be big. You could be grateful for your cup of coffee, or your friend's text message, or a hot bath. It doesn't matter as long as it makes you feel grateful.
Get free videos, worksheets, and games in your inbox every week! Subscribe to our Material Mix Monday newsletter.
Practicing Gratitude
There are several ways to incorporate a gratitude practice into your daily routine. Here are a few ways to get you started:
Express gratitude to others
Saying, "Thank you," is all it takes! We all like to feel appreciated, so next time you see your friend or partner tell them, "Thank you!" Thank your coworkers, thank your boss, thank your students, thank the person at the deli counter. This is an easy way to show your appreciation for others. It will always brighten someone's day, so why not?
Journaling
You may prefer to write what you're thankful for on a regular basis in a journal or even on your phone (whatever works best for you). Get creative! Bring out the colorful pens, splurge on a fancy journal, bring back your cursive writing—whatever you decide, make it fun! Written logs are not only helpful because they help you get your thoughts on paper, but they also offer a historical record for you to look back on whenever you're feeling down.
Meditation
Be intentional. Set aside a few minutes each morning or night before bed to sit quietly, close your eyes, and reflect on what you're grateful for. It might be helpful to focus on just one thing you're grateful for per meditation session. This might be a word (e.g. "friendship"), or an image (e.g. the image of your pet), or maybe even a sound (e.g. the birds chirping outside). Are you interested in introducing your students to meditation and mindfulness practices? Check out our Mindfulness for Kids video on YouTube.
It's up to you to decide which approach works best for you! We challenge you and your loved ones to commit to a gratitude practice year-round! Stay focused on the things that lift you up, support you, and give you warmth and encourage those around you to do the same.
Finally, Happy Thanksgiving, Everyday Speechies! You continue to inspire and amaze us with all you do. We are grateful to work with such a dedicated community of educators around the world. Thank you!
Click the image below to download this FREE "Friendship Pie" activity.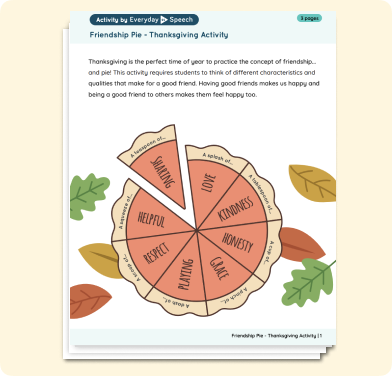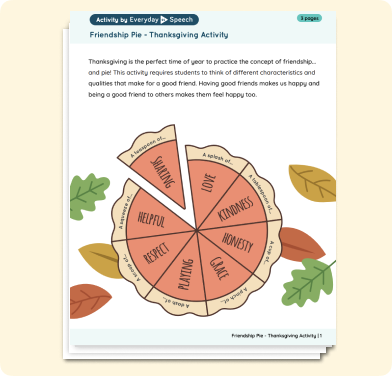 Related Resources:
---
"I use so many of the lessons, videos and games in my social work sessions! They were a lifesaver last year during remote learning!"

– Michelle Butler, School Social Worker at Chicago Heights School District
---
Leave a comment